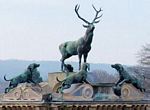 Dogs and Deer - Sculpture at the portal of the French castle Château d'Anet, built near Dreux by architect Philibert de l'Orme for the mistress of King Henry II, Diane de Poitiers (widower of Louis de Brezé, Seigneur d'Anet), from 1547 to 1552.



Cães e Cervo - Monumento sobre o portal do
Château D'Anet
, castelo francês construído pelo arquiteto Philibert de l'Orme para a amante do Rei Henrique II, Diane de Poitiers (viúva de Louis de Brezé, Senhor d'Anet), entre 1547 e 1552, a 16 km da comuna francesa de
Dreux
. Concebido pelo italiano
Benvenuto Cellini
.

Photo © Elliott Brown
---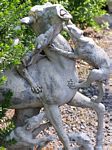 © Miss Laura M.


Cães e Cervo
Casa dos Cervos
,
Herculano
Ercolano, Nápoles, Itália
---
Cães e Cervos
Casa dos Cervos
,
Herculano
Ercolano, Nápoles, Itália
---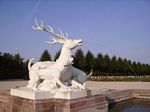 ---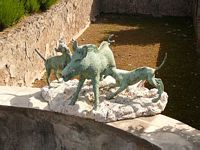 © Edson L. Pedrassani



Cães e Porco
Dois cães estressando um pobre porquinho

Pompéia
, Itália
---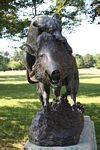 © Pradigue


Cão Atacando Javali
Domained de Beauregard
Hérouville-Saint-Clair
, França
---
---