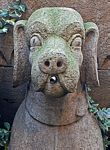 The Talbot Hounds Fountain - "The
Talbot
was a white hunting dog which is now extinct because of its lack of purpose and need for constant care, but it has been credited with being an ancestor of the modern beagle and bloodhound."
The fountain was originally located at the courtyard of captain Joseph Edwards' Castle Carr; it was demolished in 1961. The fountain was discovered, restored and placed in its atual location in 1991.

Fonte dos Cães Talbot - A fonte (esculpida em 1850 e composta de 4 cães da raça Talbot) enfeitava os jardins casa do Capitão Joseph Edwards (Castle Carr), que foi demolida em 1961. Ficou esquecida por muitos anos, até que em 1991 foi reaproveitada na renovação da praça Trevelyan, em
Leeds
, Inglaterra. O Talbot era um cão de caça branco que atualmente está extinto; acredita-se que a raça deu origem ao Beagle e ao Bloodhound.
Photo © Tim Green