---
---
---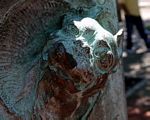 The Dublin Spring Water Boy - "Bronze figure of a small boy holding an oval-shaped canteen in front of him. The front of the shaft is adorned with the face of a small bulldog popping out of a hole surrounded by shamrocks. The monument was erected by the Dublin Spring Association to memorialize a local landmark in Paterson's Irish community, the natural spring at the corner of Mill and Oliver Streets in the middle of the neighborhood known since 1811 as Dublin. Typhoid epidemics beginning in the late 1890s closed the Dublin Spring several times, but Dean McNulty of St. John's Cathedral always managed to get the Dublin Spring reopened for his parish members. When he died in 1922, the Dublin Spring was closed permanently. The design for the memorial went through several versions beginning with an allegorical female figure holding an Irish harp, to a Triton, and finally to a child holding a canteen, which evolved into the present water boy sculpture that was approved in Nov. 1930. Paterson youngster Charles Conti most likely posed for the figure of the boy. Artistic license was taken with the design of the canteen, which was given an oval shape, rather than the traditional round shape, to make it more of an integral part of the sculpture. The bulldog on shaft is most likely the artist's own dog, Teddy, immortalized. This monument was sculpted by Gaetano Federici in 1931. It was originally located at the southwest corner of Mill Street and Oliver Street to commemorate the Dublin Spring used by the Irish-American community during the 1800's. It was moved to it's present location — Triangular brick plaza at Oliver & Marshall Streets — in 1991 during the reconstruction of Oliver St."
source

O Menino da Fonte de Dublin

- O monumento — um menino em bronze segurando uma cantil oval, sobre um pedestal cuja fronte apresenta a cabeça de um cachorro — foi esculpido em 1931 por
Gaetano Federici
para marcar o local de uma tradicional fonte natural na cidade de
Paterson
, Nova Jérsei, Estados Unidos; a obra foi encomendada pela comunidade irlandesa. A fonte foi fechada em 1922 e em 1991 o monumento foi transferido para outro lugar. Os modelos para a obra foram, provavelmente, o menino Charles Conti e seu Buldogue Teddy.
Photo © Sheena Chi
---