---

---
Anubis - Anubis is the Greek name for the god associated with mummification and the afterlife in Egyptian mythology.


Anúbis - Antigo deus egípcio associado com a mumificação e a vida após a morte. Segundo alguns,
Anúbis
é representado pela cabeça de cão da raça Pharaoh Hound.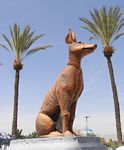 © Debra Jane Seltzer
Roadside Architecture



Pharaoh's Adventure Park
Redlands, Califórnia, Estados Unidos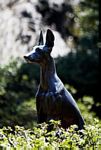 © Dennis Church








Brookgreen Gardens
Murrells Inlet
, Carolina do Sul, Estados Unidos
---

---
---

Mercury with Dog - According to the Public Monument and Sculpture Association National Recording Project, statue depicting the Roman god of trade, profit and commerce, holding in one hand a caduceus, and in the other, a purse. His right leg rests on a tree stump; next to it, a small dog stands with its head turned to the god.

Mercúrio com Cão - Mitologia Romana. Estátua em pedra do deus da eloqüência, do comércio, dos viajantes e dos ladrões, segurando em uma mão um caduceu e na outra uma bolsa. Sua perna direita descansa em um toco de árvore; próximo, um pequeno cachorro em pé olha em direção ao deus. A escultura está numa casa aberta à visitação pública, Mount Edgcumbe House, na cidade de Plymouth, Devon, Inglaterra.


---
---