---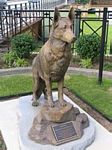 DOGNY -

America'a Tribute to Search and Rescue Dogs

- Read about the DOGNY project here
.

DOGNY -

Tributo Americano aos Cães de Busca e Resgate

- Estátua de bronze no valor de 25 mil dólares doada em 11 de setembro de 2003 ao estado da Geórgia por 31 Kennel Clubs da região de Atlanta; esculpida por Robert L. Braun.
Atlanta
, Geórgia, Estados Unidos. Leia sobre o projeto DOGNY
aqui
.


Photo © ProcrasT8
Faithful Partner
- With this monument,

the state of California honored the dogs that fight crime. Sculptor
Susan Bahary
used as models for her work two
German Shepherds
— 7-year old
Kiwi
, and 8-year old
Boomer
.
On the day of the unveiling, the police officer Deanna Stevens said: There is no greater, darker, deafening sound than, after the loss of a K-9 partner, climbing back in a patrol car and hearing only silence.
So far, 23 Californian dogs have their names engraved on plaques at the base of the monument.


Parceiro Fiel - Em 31 de outubro de 2002, o Estado da Califórnia reconheceu os serviços prestados pelos cães na luta contra o crime inaugurando um monumento — Faithful Partner — na UC Davis School of Veterinary Medicine em Sacramento, esculpido por Susan Bahary, que teve como modelos para sua obra dois Pastores Alemães — Kiwi, de 7 anos e Boomer, de 8.
Os nomes de 23 cães californianos estão gravados em placas fixadas à base da escultura e na medida que mais deles vierem a morrer, seus nomes também ali ficarão.
No dia na inauguração, a policial Deanna Stevens declarou:
Não há som mais alto, mais terrível, mais ensurdecedor do que aquele, após perder seu parceiro canino, ao entrar no carro de patrulha e ouvir apenas silêncio.


---
---