---
Dog (Zodiac) -
Statues representing the Dog, one of the twelve animals of the
Chinese Zodiac
; the Japanese Zodiac is almost identical — instead of the rat, the mouse, and instead of the pig, the wild boar. The Korean Zodiac is identical to the Chinese.
Those who are born in the year of the Dog are loyal, honest and extremely faithful to those they love. They can always be trusted to guard the secrets of others and therefore, make great confidantes. Dogs have sharp tongues, however and do have the tendency to be fault finders. When filled with righteous indignation, dogs can be most stubborn and unyielding. They make great leaders but would also be happy working as an activist or secret agent. A dog is most happy with a tiger or horse.

Inscribed in the monument in Chicago.

Cachorro (Zodíaco) - Estátuas representando o Cachorro, um dos 12 animais do
horóscopo chinês
— rato, boi, tigre, coelho, dragão, serpente, cavalo, cabra, macaco, galo, porco e o cão. O horóscopo japonês é quase idêntico; ao invés do rato, o camundogo e ao invés do porco, o javali selvagem. Já o horóscopo coreano é idêntico ao Chinês.
---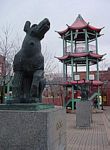 © Erin Price

Cão

Shopping center ao ar livre Chinatown,
Chinatown
Chicago, Illinois, Estados Unidos
---



Jardim Chinês
Parque Louise McKinney Riverfront
Edmonton
, Alberta, Canadá
---