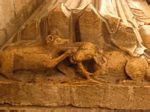 Sarcophagus of Maria Vilalobos - Gothic sarcophagus of Portuguese knight
Lopo Fernandes Pacheco's wife
, in the Saint Ildephonsus Chapel (or
St Cosme and St Damião Chapel?)
of Lisbon Cathedral. At her feet, two dogs, at her side, a little dog; plus, her sarcophagus is decorated with dogs in high-relief.
Sarcófago de Maria Vilalobos - Esculturas no sarcófago em estilo gótico da
mulher de
Lopo Fernandes Pacheco (
companheiro de armas de
D. Afonso IV
)
, Maria Vilalobos. Peça do século XIV,
na Capela de Santo Ildefonso (ou Capela de São Cosme and São Damião?) da igreja
Sé de Lisboa
(Santa Maria Maior de Lisboa), Lisboa, Portugal.
Maria tem ao seu lado um cãozinho e aos seus pés dois, além de seu sarcófago ser todo decorado com cães em alto-relevo. Existe um ditado poular português, "larga o osso" que tem origem na história deste casal: certa feita, Maria fez uma corrida de cães a quem colocou o nome de cada fidalgo que queria casar-se com ela; o vencedor seria seu marido... fonte



Photo © akynou
---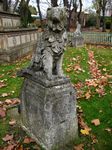 The Burdett-Counts Memorial Sundial (dog) - "This elaborate
sundial
was designed by George Highton of Brixton in the decorative gothic style and is a Grade II listed structure on English Heritage's List of Buildings of Special Architectural or Historic Interest. It was unveiled in 1879 by
Baroness Burdett-Coutts
(1814-1906), one of the great Victorian philanthropists who sought to rid London of its slums.

The memorial is constructed of Portland stone, marble, granite and red Mansfield stone, with extensive mosaic enrichment depicting flowers and the seasons. The spire includes a sundial, relief carvings of St. pancras and St. Giles and a list of eminent persons buried in the churchyard. The whole structure is enclosed by cast iron railings with some statues on pedestals at each corner, one of which is thought to have been modelled on Baroness Burdett-Coutts' own collie dog."
source
The Baroness commissioned the statue in honor of
Greyfriars Bobby
.

Relógio de Sol Memorial dos Burdett-Coutts -
Adro
da Igreja velha de St. Pancras,
Londres
, Inglaterra. O elaborado
relógio de sol
foi criado por George Highton of Brixton no estilo gótico. Foi inaugurado em 1879 pela Baronesa Angela Burdett-Coutts (1814-1906), uma das grandes filantropistas da era Vitoriana; ficou conhecida como a rainha dos Pobres e Protetora Mãe da Igreja da Inglaterra e está enterrada Abadia de Westminster.

O Memorial inclui um relógio de sol, relevos de St. pancras e St. Giles e uma lista das pessoas enterradas no adro da Igreja. Ainda existem algumas estátuas em pedestais em cada canto; uma delas é de um cachorro que se acredita ter tido como modelo o collie da Baronesa.
fonte
Foi a Baronesa Burdett-Coutts quem encomendou a estátua em homenagem a
Greyfriars Bobby
.
Photo © paulitzerPix
---

---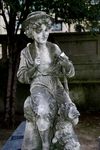 ©
Clear and Ready for Takeoff

Túmulo de ? (menino e cão)
Cemitério de Passy Tombe
Paris, França
---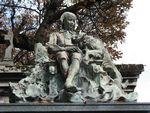 © NatalieMaynor

Túmulo de ? (menino e cão)
Cemitério do Père-Lachaise
Paris, França
---
---
© Pattys-photos

Túmulo de ? (menino lendo carta e cão)
Cemitério Salt Lake City
Salt Lake City , Utah, Estados Unidos

---

© Star Cat-Sherrie

Túmulo de ? (cão)
Green Mount Cemetery
Baltimore
, Maryland, Estados Unidos
---
---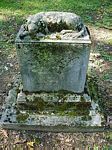 © Eve Hallows

Túmulo de ? (cão)

Cemitério Oakwood
Chittenango, Nova Iorque, Estados Unidos
---


Túmulo de ? (cão)
Cemitério Forest Lawn
Dexter
, Michigan, Estados Unidos
---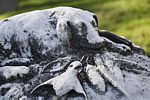 © Jennifer Smith

Túmulo de ? (cão)
Cemitério Evergreen
New Haven
, Connecticut, Estados Unidos


---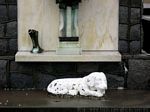 © Eric Seetwist

Túmulo de ? (cão)
Cemitério
Lake Lawn Metairie
Nova Orleães
, Louisiana, Estados Unidos


---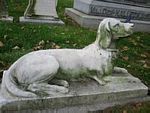 © Brecht Bug

Túmulo de ? (cão)
Cemitério
Green-Wood
, Brooklyn
Nova Iorque
, Estados Unidos
---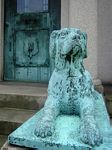 © Incandenza



Tomb of ? (cão)
Cemitério
Green-Wood
, Brooklyn
Nova Iorque, Estados Unidos
---

Túmulo do Dr. Felix Septimus Elders - Além de uma bela estátua em mármore de mulher de luto reclinada em uma coluna, há um cão (também em mármore) no túmulo do Dr. Elders, (1826-1890). Cemitério Oud Eik en Duinen em
Haia
, Holanda do Sul, Países Baixos. Uma placa informa que o nome do cachorro era Caesar.


---

© Heather M. Kendrick

Túmulo do Dr. N. A. Dryer (cão)
Cemitério Pleasant Hill
Bath, Michigan, Estados Unidos
---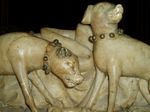 Tomb of Eleanor of Castile, Queen of Navarre (dogs) -
Eleanor
is buried at his husband side, King
Charles III of Navarre
, in the
Cathedral of Pamplona
. At his feet, there is a lion; at hers, 2 dogs.

Túmulo de Leonor de Castela, Rainha de Navarra (cães) - Leonor (1363-1416) está enterrada ao lado de seu marido, o Rei
Carlos III de Navarra
, o Nobre, em uma magnífica tumba na
Catedral de Santa Maria
, em Pamplona, Espanha. Aos pés dele, há um leão; aos dela, dois cães.
Photo © andrelebeau
---
Tomb of Elizabeth Bernardine Rees - Sculpture of a Newfoundland at
Hollywood Cemetery
— the dog watches over a little girl's grave.
According to the
SIRIS
,
"the dog belonged to Charles R. Rees, and marks the grave of his sister, Elizabeth (Bernadine) Rees who died in 1862. Charles Rees initially purchased it for his son who saw the dog in front of a store and used to 'ride' it every time he passed it. The dog was not placed in the cemetery until just prior to the Civil War's end in 1865, to prevent its confiscation as metal for bullets. The dog is embedded in concrete to prevent its vandalism."



Túmulo de
Elizabeth Bernardine Rees
- Escultura em ferro, pintada de preto, no Cemitério Hollywood, em
Richmond
, Virgínia, Estados Unidos. O cão Terra Nova guarda a sepultura de
Elizabeth (Bernardine) Rees que morreu em 1862; a
estátua
pertencia a seu irmão, Charles R. Rees, que a tinha comprado para seu filho — o menino montava nele toda vez que passava na frente da loja em que a estátua ficava. O cão não foi instalado no cemitério até bem pouco antes do final da Guerra de Secessão em 1865, para prevenir que fosse confiscado como metal para a fabricação de balas. Ele está fixado em concreto para evitar roubo.


Photo © Melanie


---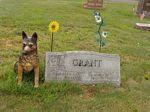 © jade19721/Michelle

Túmulo de Everett e Marie Grant (cão)
Cemitério Pine Plains
Clay, Nova Iorque, Estados Unidos
---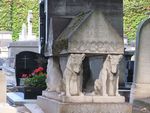 Tomb of Félix Martin-Sabon - French photographer (1846-1933) who worked for the Commission for the Historic Buildings and Monuments.

Túmulo de Félix Martin-Sabon - Martin-Sabon (1846-1933) foi um fotógrafo francês que trabalhou para a Comissão dos Monumentos Histórico; ele está eneterrado no
Cemitério de Montmartre
, em Paris, França.



Photo © Kay Harpa
---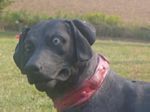 ©
Pike County Public Library


Túmulo de Finis Hornady (cão)
J.L. Mott Iron Works (fundição)
Cemitério Walnut Hill
Petersburg
, Indiana, Estados Unidos
Túmulo de Francisco II, Duque da Bretanha e de sua mulher Margarida de Foix - Catedral de Nantes (ou Catedral de São Pedro e São Paulo), em Nantes, França. Além do cão, existem outras belas e magestosas figuras decorando o mausoléu — um leão, anjos, sentinelas; também estátuas de Francisco e Margarida deitados sobre sua tumba, esculpidos por Michel Colombe.


Photo © Guillaume Piolle
---
---

Photo © CosmicGypsy


---
---
---
---

Túmulo de Louis-Maria Moris -
Moris (1808-1900) foi um escultor francês; está enterrado no
Cimetière du Père-Lachaise
, Paris, França
. O epitáfio em seu túmulo é dedicado a tia querida que o criou, mesmo sendo muito pobre:
A Agathe Moris - Je suis né en 1808. Ma bonne tante, d'une pauvreté extrême, me prit m'éleva jusqu'à sa mort en 1825. Ombre chère, du haut de l'éternelle lumière crois moi ton neveu reconnaissant.



Pode-se fazer uma visita virtual ao cemitério aqui.



Photo © Barbara Smith


---
---
---

---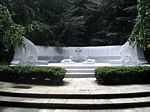 Tomb of Robert R. McCormick
- At
Cantignyi
is located a museum devoted to the
First Division
of the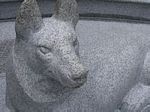 United States Army, in which Colonel
Robert R. McCormick
(the owner of the state) served as a colonel during World War I. McCormick was
Chicago Tribune
's publisher.
The grave's format is an
exedra
— a semicircular recess.

Túmulo de Robert R. McCormick - McCormick (1880-1955) era editor do jornal

Chicago Tribune

(fundado por seu avô Joseph Medill), cargo que assumiu em 1910. Durante a Primeira Guerra, fez parte da
Primeira Divisão do Exército dos Estados Unidos, chegando ao posto de Coronel. Uma das façanhas da Primeira Divisão foi a tomada de Cantigny, na França; anos mais tarde, McCormick deu o nome da cidade à sua propriedade nos Estados Unidos, em
Wheaton
, Illinois,
hoje um parque e onde ele e sua mulher, que gostavam muito de cães, estão enterrados.
O túmulo tem o formato de uma exedra — isto é, recinto semicircular; ao centro, dois cães esculpidos em pedra.
Photos © proleptic_fancy
---
---
---

Túmulo de Tom Sayers (cão Lion) - Sayers (1826-1865) foi um lutador de "
Boxe com as mãos nuas
". Ele está enterrado no
Cemitério Highgate
, em Londres, Inglaterra. Seu túmulo é guardado pela estátua em pedra de Lion, seu cachorro, que esteve presente em seu funeral.
---
---
---

Túmulo de William F. Harnden -
Túmulo do fundador de uma das primeiras companhias independentes de envio de encomendas dos Estados Unidos, William F. Harnden (1812-1845). Cemitério Mount Auburn, em
Cambridge
, Massachusetts, Estados Unidos. Fundado em 1831 como o primeiro "cemitério parque" dos EUA, ao estilo "
Campos Elísios
" (a versão do paraíso da mitologia grega) — em contraste com os campos santos tradicionais ou os vetustos cemitérios de igrejas, que apresentavam uma visão mais dura da morte. A maior parte do cemitério está, na verdade, na cidade de Watertown; no entanto, o portal principal de granito (construído em 1843) fica em Cambridge.
Photo © Muffet
---
---
---
---